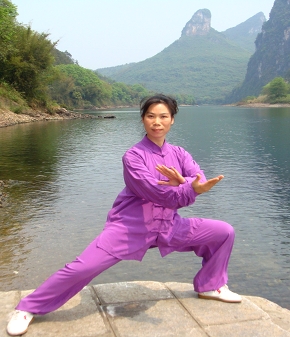 Mei Juan Luo founded the Long Tou Shan Martial Arts School in Yangshuo, China, and has more than twenty years of experience teaching Tai Chi to students from around the world.  In addition to maintaining the Long Tou Shan Martial Arts School, Mei has in the past taught students in Lakewood, Colorado, USA.
From her youngest days with her father, a Kung Fu master, Mei loved the martial arts. However as her father is very traditional, he refused to teach his skills to a girl. So Mei took up dancing until she was old enough to learn by herself. Initially Mei started to take lessons in Yang style Tai Chi from local teachers and practiced both the long and short forms. Having already studied Yuan (circle) Neng (energy) Gong with a Taoist Wudang Master, at the age of seventeen she also learned acupuncture from Doctor Lei Long Hung who introduced Mei to traditional medicine. Now practicing Tai Chi every day Mei wanted to learn more styles and this led her in 1996 to Chen Village, the home of the Chen Family and 19th Generation Master, Chen Zheng Lei who is recognized by the government as one of the ten great martial arts masters of China.
Already teaching students in the park and by the riverside in Yangshuo, in 2003 Mei applied to become a Tai Chi Master and took the written and practical exams which also required her to demonstrate her teaching skills with a group of beginners before the examination panel. Having been accredited as a 7th Level Master by the Chinese Wushu Association and encouraged by her teachers she began to enter competitions, winning silver medals at the Chen Village Elite Tai Chi Tournament in 2004.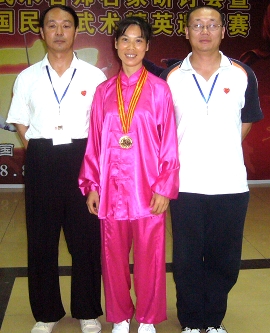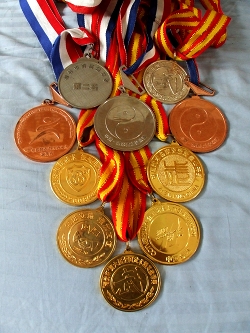 Mei has continued to win gold and silver medals for taijiquan and sword at regional and international competitions. Though she is proficient at both sword and hand styles her speciality is a form of freestyle Chen taijiquan which allows her to select steps from the Lao Jia and the Xin Jia (long forms) and improvise her own sequences. Since 2003 Mei has been apprenticed to Chen Zheng Lei, and returns annually to Chen Village for three weeks every year to study with him.
In 2007 the Chinese Wushu Association invited Mei to be examined as an Advanced Level Wushu Coach and she was subsequently invited to participate in the Beijing Olympics Wushu Competition, held alongside the 2008 Olympics: Mei won two gold medals and a ticket to watch the Olympic events, and won two further golds at the 2009 national Wushu Competition in Shanghai.
Also in 2009, Mei won a gold medal as best tai chi instructor as she led her student group to great success at the regional competition in Guilin, China, where several students brought home medals.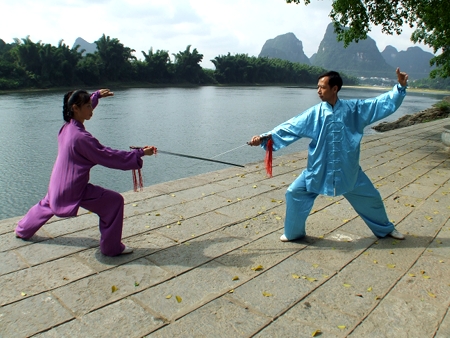 John L Payne, author of 'The Presence of the Soul & The Healing of Individuals, Families and Nations', wrote:
"Mei is the most wonderful Tai Chi teacher I have ever worked with. She radiates enthusiasm, passion and genuine concern for each of her students. It was a great pleasure to work with her. For Mei, Tai Chi is not a dance as many others would have you believe, but the enhancing and realisation of our inner authentic power in the form of Chi. Mei is truly a master!"